Automotive Repair & Service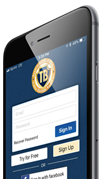 Build Trust with Future Service Customers Through Testimonial Builder
Did you know a third of drivers in the U.S. don't have a mechanic, repair facility or service department they trust? Similarly, 64% of people don't trust car repair shops in general. What's the best way to encourage new service customers to trust you? Coupons? Ads? The answer is right in front of you – It's your happy customers! Use Testimonial Builder to let your customers spread the word. Once you film the video through our easy-to-use app, it is automatically uploaded to YouTube for quick and easy sharing. Fill in the customer's email address so that they can get a copy and encourage them to share the video on Facebook and other social platforms.
When choosing a business, one of the most important factors is reputation. Almost 80% of people say they trust online reviews just as much as personal recommendations from family or friends. Service customers often feel like they've been overcharged or taken advantage of – but not your customers! Authentic video reviews from your happy customers can go a long way to help dispel those stereotypes, especially when they share it across their online community. Learn more about the app's features and benefits on our home page.
With Testimonial Builder's Small Business Package, you will receive the following:
Up to 5 app user accounts
Unlimited videos
Our in-house support
A custom YouTube channel
A custom webpage to host the videos
Website Integration
Hippa compliant release forms
Program Cost
Option 1: $149 a month with no set up fee *if prepaid for one year in advance*
Option 2: $199 a month with a one time $200 set up fee
Download The Free App Today!